Meet Our Donors
We thank all our planned-gift donors for their generous support. Here are some of their stories.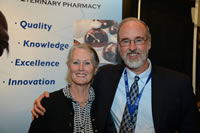 Tom and Margaret Riddle
As I look back over my career in veterinary medicine, I realize how blessed I am to have found a passion for theriogenology. After thirty five years I still get excited with each new pregnancy I find on ultrasound, with each new embryo's heartbeat, with each infertility diagnosis that could point the way to a successful treatment plan. Theriogenology has provided a means to stimulate my mind, to feel a sense of accomplishment, to associate with a wonderful group of colleagues, and to support my family.
For all these reasons and more, I am pleased to make a bequest to the Theriogenology Foundation in my will. I want to play a part in ensuring that other veterinarians will have the same opportunity to pursue their passion.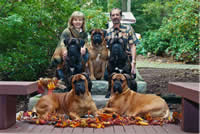 Ira C. Kaplan DVM MS & Anita M. Migday DVM MS
Do you remember your first time? I do. I was sitting at my desk, glanced down and saw the surge. The dot turned blue, the progesterone was on the rise and I knew the bitch would ovulate in the next couple of days.
My ability to time ovulation with more than cytology was a defining moment in my career. Years of basic endocrine research coupled with the interest of private industry turned dog breeding on its head. New opportunities for veterinarians were created as dog breeding became a clinical science.
There are still many questions about the root causes of reproductive diseases, but we know the answers are out there. As practitioners, we appreciate that the complexity of these issues needs a collaborative approach and resources.
This is where the Theriogenology Foundation can help. The Theriogenology Foundationís Board of Directors comprises the broadest base of therio expertise, anywhere! The Foundations ability to attract and dedicate resources will find answers for the questions we ponder.
Presently, we support the Foundation while we earn. When we are no longer, our planned giving arrangement in our Trusts will continue to provide support. We believe that the joy of discovery does not have to happen by our own hands. Sharing the experience is much more fun. If you want to be a part of someone elseís first time, then join us in financial support for the Foundation.